With all of the trades of veteran players the Astros engaged in this season, it is a deal in 2010 that is about to pay off dividends.
Lance Berkman was as good a Houston Astros player that put on the uniform in the past decade. Maybe he was not on the same level as Craig Biggio or Jeff Bagwell.
But in his 12 years with Houston, starting with the 1999 NL Central Champs, he put up all-star numbers. He led the league in RBI in 2002 and finished in the top ten for the MVP vote five times.
He called the Astrodome home and later helped lead the Astros to their only pennant, crushing a key grandslam in the 2005 Division Series against Atlanta.
But when Berkman's skills were diminishing along with the Astros pennant hopes, Houston sent him packing to the defending World Champion Yankees in 2010. He would not win a World Series in New York but in 2011 as a member of the Cardinals, he kept St. Louis' hopes alive by tying Game Six of the 2011 World Series with two outs and two strikes on him in the bottom of the 10th.
He would get his ring as a Cardinal, the same team he fought so hard against in the 2004 and 2005 NLCS.
According to NBCSports.com, Berkman is probably going to retire after this season.
Meanwhile the Astros compensation of Berkman is on his way to the majors.
Jimmy Paredes has been recalled from Triple-A Oklahoma City. The 23-year-old Domincan was a third baseman for most of his minor league career before making a switch to the outfield this year. He played 46 games in the majors last season and batted a respectable .286 with an OPS of .713 in Houston.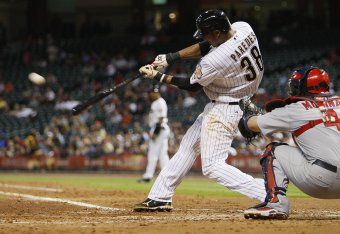 Bob Levey/Getty Images
This year he has excelled in Triple-A. He batted .318 with 13 homers and 37 stolen bases as he made the Pacific Coast League All Stars. The switch hitter is second in the league for total bases and brings power and speed to his game.
According to Astros.com, Houston General Manager Jeff Luhnow believes Paredes will be a top of the order hitter. "Our plan right now" he said, "is to play him in right field and get him accustomed to Minute Maid Park."
Of course right field was where Lance Berkman started 233 times as a member of the Astros.
So as Berkman and a great part of the Astros past goes into the night, his legacy could go on with each Paredes stolen base and gap shot.
Additionally, the other part of the Lance Berkman compensation was reliever Mark Melancon, who is currently having a subpar year in Boston.
But the Astros flipped him for infielder Jed Lowrie, who was having a nice season with 14 homers before an ankle injury sidelined him.
If Lowrie comes back next year at age 29, the Astros could have two contributors from the Berkman deal. Not a bad first few steps into the future.