If you're like me and love to watch specific matchups, then the Sunday afternoon tilt between Peyton Manning and the Houston Texans defense will be must-see TV. 
The only question is, who will come out on top? 
I'm banking on the Texans, so let's take a closer look at how it will shake out.
Markets
The look-ahead line for this game had the Texans as short favorites, and after Week 2 not much has changed.  I was hoping for a Broncos cover on Monday night, not only because I picked them, but also for some value on Houston in Week 3.  I don't see this line hitting the magical 'three', but it will be interesting to see what it closes at (odds from SBRforum).

Home Field Advantage?
Week 2 saw an astonishing 11 home teams cover the spread after splitting Week 1 going 8-8.
Was it also a coincidence that the replacement refs had a horrible weekend?  The jury is still out on what the specific impact these officials are having, but I saw many 50/50 calls go in favor of the home team this week.  I'm not saying the refs decided any games, but their unpredictability and inability to control and call a game is getting more concerning.
Last weekend could have been an anomaly, but one thing I do know is if you like a road team in Week 3, you better be sure of your advantages. The fact that the Broncos enjoy an inflated home-field advantage playing in the thin air of Mile High should tell you just how much I like this Texans team.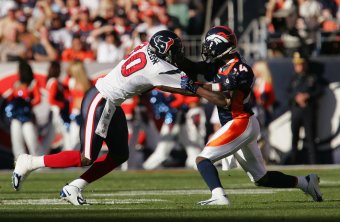 Ronald Martinez/Getty Images
Super Bowl Bound?
So far, there are a couple of NFL teams that I was very wrong aboutâ€"the Kansas City Chiefs are a prime example.
However, one team I appear to be spot on with is the Houston Texans. I picked them before the season to win the Super Bowl and placed them at the top of my power rankings before seeing a single snap.
I realize it's only been two weeks, but I saw much of the same domination last year before they suffered some huge injuries to key players.  The Texans beat up on much inferior opponents, but that's what top teams are supposed to do, so I'm not going to take anything away from their victories, thus far.
Defense Wins Championships?
Since the Broncos don't face the 49ers this year, chances are this will be the toughest defense Peyton Manning sees all year.
On one side, he will see DEs Antonio Smith and Connor Barwin.  On the other side he'll see end J.J. Watt and LB Brooks Reed.  These guys play relentless football and come at you on every down.  The scary thing is they can often get pressure without bringing extra guys.
Over the middle, the Broncos offense will have to deal with Brian Cushing. Even their reserve guys can make plays:Â  Whitney Mercilus was taken in the first round and is coming in as a pass-rushing specialist.
Peyton will want to play the underneath game with Stokley, Willis McGahee his tight ends and McGahee, but the Texans defense will make it tough-sledding for every yard and every first down.
If he wants to attack them vertically, the news might be even worse.
Safeties Danieal Manning and Glover Quin are as versatile as they come.  They can make tackles in the run game, line up at cornerback or roam free and patrol center field.  On the outside is Johnathan Joseph and Kareem Jackson.  This group doesn't get as much national attention as it should, but it provides great back-end support for one of the NFL's most formidable front seven.
Expect Manning to have game plan that uses a lot of base two-tight end sets so as to give him an advantage at the snap.
But as we saw vs. the Falcons, the Broncos' passing game is not a well-oiled machine just yet. If they hope to win this game, they'll have to do it playing smart and efficient ball (and not turn the ball over four times in the first quarter).  So far, Manning has thrown five balls past 20 yards this season and three of them were picked off by defensive backs. 
That's not an encouraging sign for Bronco fans.

Can Anybody Stop Foster and Tate?
When you line up Denver's defense against anybody, I'm going to like their chances at slowing them down.  It did a pretty good job against the Steelers in Week 1, and it wasn't terrible vs. the Falcons either.
The one question that I do have is how it will do in make-or-break situations.
The true identity of a defensive unit is found on third down and in the red zone. So far this Broncos D has had trouble in these areas, though putting too much weight on their play in those areas after two games may not be fair. After all, Big Ben knows how to get it done when things are on the line, and Denver's defense was repeatedly put in bad spots by Peyton's turnovers against Atlanta.
Still, things aren't going to get any easier with Houston on deck.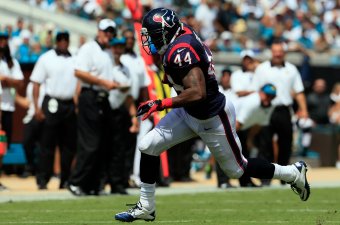 Sam Greenwood/Getty Images
Matt Schaub isn't about to win any passing titles or lead the league in touchdowns, but he doesn't have to.  He's in the perfect scheme that allows him to pick his spots and win on play-action. 
When you have guys like Arian Foster and Ben Tate in the backfield running behind a dominant offensive line, the QB is going to have a choice all day between Owen Daniels over the middle or Andre Johnson on the outside.
I expect the Texans to continue with their no-huddle power running game on Sunday and put a lot of pressure on the coverage units.

Bottom Line
I've seen a lot of power rankings out there that have the Texans number two behind the 49ers. When you look at the Super Bowl odds, you'll see the same thing. It's good to see Houston get their respect, but make no mistake about it, this is the best overall team in the NFL right now. 
I would take them to beat any team in the NFL at the moment, including Week 3.
NFL Pick: HOU -1.
This article is from the Free NFL Predictions blog. For more picks and analysis, visit www.brooksbets.com, and follow Bobby Brooks on Twitter the entire football season for all things NFL betting.