Whatever happens to the Orlando Magic's Dwight Howard, there's a good chance the Houston Rockets will be involved one way or the other.
The team has reportedly shown interest both in acquiring Howard directly and in facilitating his relocation to the Los Angeles Lakers by taking Andrew Bynum in the process. Of course, there's still a good chance Houston won't get in on the action, but it won't be for lack of trying.
At the end of the day, the choice may not be Houston's alone.
Orlando general manager Rob Hennigan isn't in a rush to make a move, and there's no guarantee he'll ultimately prefer Houston's assets to the alternatives. At present, though, the Rockets appear to be in the best position to offer the Magic the combination of young talent and draft picks the organization craves.
If that remains the case, the Rockets could find themselves in the position to land themselves a big man to complement the newly-signed Jeremy Lin.
Both Howard and Bynum would be risky acquisitions.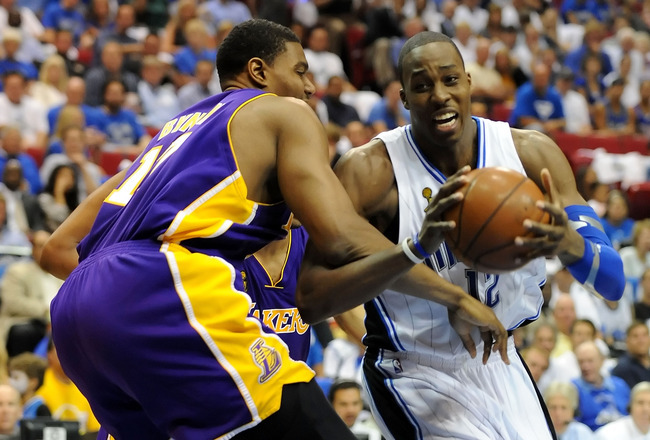 Ronald Martinez/Getty Images
According to ESPN.com, Howard's agent Dan Fegan recently stated that the superstar center will take stock of his free-agent options next summer regardless of which team lands him in the meantime. Bynum's agent David Lee has explained that any team interested in his client's services should talk to him before making a move (via ESPN's Ramona Shelburne):
"I can't imagine any team foolish enough to do the deal without asking permission to speak to Andrew," Bynum's agent David Lee told ESPNLosAngeles.com on Thursday. "That's beyond belief, but strange things happen."
Buyer beware.
Beyond the long-term risks, though, who makes the most sense in a Rockets uniform?
There is a case to be made for Howard, for sure. His defensive impact alone could shift the fortunes of a team otherwise caught up in a rebuilding process.
But Houston needs more than defense.
Andrew Bynum has steadily improved over the course of his seven seasons with the Lakers and now ranks as one of the most skilled low-post scorers in the gameâ€"even better than Dwight Howard.
A sample of Bynum's offensive skill set.
While Howard's athletic ability makes him incredibly explosive around the rim, Bynum can do damage from mid-range and with his back to the basket. That makes him a more lethal scoring option for a team needing a big man who can create his own offense.
The Rockets are just such a team.
Jeremy Lin may be an up-and-coming star, but Houston is otherwise short on talented players that can make things happen on their own. Bynum's abilities in this department also better translate into long-term production.
Whereas athleticism declines, a skilled big man can make an impact well into his 30s.
The 24-year-old Bynum has a while before he gets there, and that's another perk to bringing him on board.
The Rockets are a young team, and they'll be more likely to make noise in the playoffs a couple of years from now than in their current state.
If Houston can get its hands on a dominant center, Bynum is the one to target.